Looking for a good read this Halloween? How about one on sale? Many authors, including me, have marked down our books for a short time. Prices may change at any time. Please check.
Lisa Carlisle: Knights of Stone
Currently .99, down from 2.99, until Oct. 31
Buy it here | Subscribe to Lisa's Newsletter
Gargoyles, tree witches, and wolf shifters have divided the Isle of Stone after a great battle twenty-five years ago. When Kayla, a tree witch, hears about the unconventional rock concerts in the gargoyle's territory, she sneaks from her coven and into their territory to see for herself. Night after night, she returns to see one in particular shift into human form and play guitar at these unconventional shows.
For several nights, Mason has kept watch for the pixie-like female. He plans to seduce her, thinking she's a visitor from another island. When he discovers she's one of the tree witches, he retreats, attempting to keep his distance. The temptation is strong, but forbidden.
Kayla and Mason attempt to meet in secret, but other elements on the isle command their attention. A magical cloak created by the three clans on the island is thinning, leading to repercussions for all the clans. Kayla and Mason are caught in the middle of it, and their actions may change the fate for all.
---
J.E. & M. Keep: Theodora's Descent
Currently .99, down from 3.99 Oct 25-Nov 1
Buy it here | Subscribe to J.E. & M.'s Newsletter
In the dead of night, they call for her. The monsters and their strange, ancient city deep below the earth.
Theodora is not content to find a husband and settle down. She seeks adventure, not courtship.
She feels the primal pull of beings that shouldn't exist and falls into the den beneath. Saved by a monstrous man from the clutches of two vampires, she quickly realizes that her nightmares couldn't even come close to the things that haunt the underworld.
As she desperately seeks escape, can she survive the horrors that lurk below, or will she succumb to the power that reigns in the dark?
A dark, seductive force calls to her… pulls her towards its clutches…
Natalie Deschain: Luna Holdings: A Novel
Buy it Here | Subscribe to Natalie's Newsletter
The first full length novel by Natalie Deschain!
Karen needs a job and she needs it now. Down to combing online classifides, she sends off her resume to Luna Holdings, even though she has no idea what the company actually does. Five minutes later, a sultry voice calls and identifies herself as Lilith Chambers, Vice President of Human Resources. The interview is a cakewalk, and Karen gets the job on the spot.
This is no ordinary company, and Lilith is no ordinary boss. The accounting manager is a dragon. The mail room is full of undead and a troll guards the front desk, and Lilith…
Lilith is complicated. Ancient monster goddesses need love, too.
---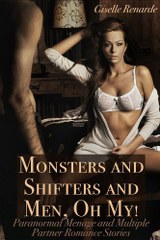 Giselle Renarde: Monsters and Shifters and Men, Oh My!
Currently 2.99, down from 5.99, until Nov 7
Buy it Here | Subscribe to Giselle's Newsletter
Just can't get enough? Monsters and Shifters and Men, Oh My! is a box set full of spicy paranormal romances.
Inside you'll find a princess in hiding, a forest full of shapeshifters and a faery with a secret. Curious about that mysterious man at the coffee shop? So are baristas Saada and Toby. Meanwhile, paranormal investigators Geoff and Anna are northward bound to search for the legendary Shadow People. And how will Artemis react when she encounters a cunning incubus who knows what he wants… and takes it?
Still craving beastly men? Good thing this collection includes a bonus werewolf tale by renowned author Savannah Reardon!
Monsters and Shifters and Men, Oh My! includes two novellas, three novelettes and one short story devoted to menage and multiple partner romances.
---
Erotic Shorts:
---
J.M. Keep: Bad Wolf, On the Run
Currently .99, down from 2.99, until Nov 2
Buy it here | Subscribe to J.M.'s Newsletter
Sarah is fleeing from something that no one believes exists. The stuff of fairy tales and myths.
The werewolf pack are right on her tail, and they won't rest until she's claimed by them. But one wants her more than the others, more than even she could have guessed.
A dark fairy tale erotica. Can be read as a standalone or with Bad Wolf, Be Good.
---
J.M. Keep: Bad Wolf, Be Good
Currently .99, down from 2.99, until Nov 2
Buy it here | Subscribe to J.M.'s Newsletter
Sweet and pristine, the dark inhabitants of the woods knew not to touch the young woman that lived in the depths of the forest.
Yet the beast that stalks her has nothing to fear of being cursed. Nothing to lose if he claims her for himself. After all, he already has the wolf's blood coursing through him, and can't control his lusts.
A dark fairy tale romance. Can be read as a standalone or with Bad Wolf, On the Run
---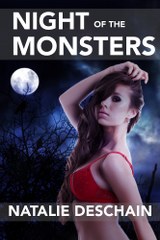 Natalie Deschain: Night of the Monsters
Buy it here | Subscribe to Natalie's Newsletter
In this raucous horror-comedy erotic novella from top 100 author Natalie Deschain, five college students take a spring break vacation in the deep woods.
They expect a weekend of roughing it and maybe a little exploration, but the lurking monsters surrounding the cabin have other plans for the weekend in this loving homage to the horror genre.
---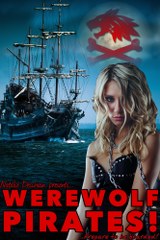 Natalie Deschain: Werewolf Pirates
Buy it here | Subscribe to Natalie's Newsletter
Top 100 Erotica Author Natalie Deschain returns to paranormal erotica with a bang in this super-steamy novella. Prepare to be boarded!
When black sails appear on the horizon, Catherine St. Claire knows she's in trouble. These are no ordinary pirates, in search of cargo to steal and captives to ransom. The ship bearing down on her is the Fang, crewed by bloodthirsty, plundering monsters in search of precious booty. They're WEREWOLF PIRATES!
With her own ship sinking beneath the waves, Catherine and her Irish maid are taken captive as the personal prizes and pets of Gregor, the fearsome captain of the monstrous crew. Catherine is repulsed by his brutality and bestial rage, but entranced by his overwhelming, regal strength and powerful, dominant will. As her new captain breaks her down into his willing pet, she breaks him with her beauty, charm, and song. Deep within the monster hides a broken man, and only Catherine can soothe the savage beast.
When Catherine is wounded in a sea battle, Gregor saves her the only way he knows how, by passing the werewolf curse to her- and the first thing a newly afflicted female werewolf does is go into heat! Filled with new, insatiable lust, her desires are overwhelming.
Just as Catherine begins to reach the man inside the beast, a terror from his past comes calling. The Fang and its crew aren't the only monsters prowling the waves, and an old enemy is out for blood.
BONUS! Contains a sample of Natalie Deschain's epic paranormal erotic novel, Luna Holdings.
---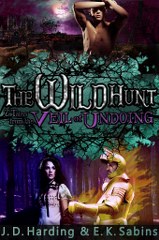 E.K. Sabins: Veil of Undoing: The Wild Hunt
Buy it Here | Subscribe to E.K.'s Newsletter
Between the waking world and dreams, there is the Veil.
One day of the year is known as the time when the fabric between worlds slips away, and our ancestors knew that dangerous things lurked beyond what we call reality. They have been called many things, but they were almost universally feared. And they haven't gone anywhere.
Guarded as they always were, by deep, primal magics, the creatures from beyond the Veil continue to snatch people from this world, and they continue to ride The Wild Hunt.
The Wylde Hunt by J. D. Harding
William was just a lad when he reached out a hand to snatch a loaf of bread, from the wrong table! Now he's a man who has lived for 230 years as a prisoner to a mysterious Lady of the Fae, Queen of her own realm and more beautiful than dawn.
Will her court's annual hunt give him a chance to escape his bondage, or double his sentence? And what price will he be willing to pay for freedom?
Into the Fire by E. K. Sabins
Grete never thought much of herself, she was just another daughter of another poor miller in another little village on the edge of the German black forest, but her life is changed forever when a mysterious trio of men arrive on All Hallow's Eve.
What has become of the family she left behind? Will Grete be burned by the realm of fire, or will she learn to master it's secrets?